It's not easy.
I was asking myself lately why I was not able to save money.
I blame single payroll policy.
I blame the long ride home to work.
I blame 7-11.
I blame milk tea.
I blame the food cart siomai (meat dumplings).
Oh, I can't blame coconut shake. I just love it.
Isn't it funny how we blame ourselves last?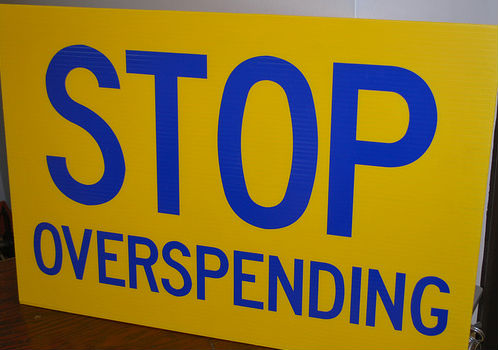 lookingflyonadime.com
That means ALTHOUGH I don't carry multiple bags in my hands. ALTHOUGH I don't charge a lot these days to my credit card. ALTHOUGH I remind myself not to spend unplanned. I realized that lately, I follow my urges (I mean, my simple delights, huh).
You'd probably say that's not unusual. That's OK. That's just simple pleasures – good for you and me.
Above mentioned items could probably be cheaper than what most people spend for. And for me, I give in to simple delights – you would understand why after a stressful work day.
For me, Gongcha makes me happy. Serenitea makes me happy. Happy Lemon makes me happy. You just don't know how happy I am it puts the stress away!
I believe that everyone must save and invest and get what it means.
You save and invest for a purpose, not to control the world and conquer it.
We just can't have all the lands in this old turf. We just can't have all the printed money in this world.
Money isn't the end; money is how you get into your dream vacation, dream gadget, dream educational plan for kids, dream retirement.
In short, define spending in such a way that you do not deprive yourself of material wealth and joy. If you can go to Boracay for free – great, but for most people, going to Boracay means being with the real treasure is – family. And for people to spend time at the world's best island according to recent survey, people need to spend for it.
You've got to get it. Why you save and invest. It's for a purpose.
I believe that buying yourself is not a bad idea. Being too stingy limits you from enjoying the material world we live in. This one, beautiful world.
But how about for shopaholics, impulse buyers and credit card charge slips collectors?
You've got to fight overspending.
Like taking a loan for an LV bag.
Like applying for a new credit card, max it out on shopping, and apply for another credit card again to pay off the first, then repeat process to pay off the second, then repeat process…
Like being a one-day-millionaire every paycheck.
And so on.
Here's the challenge:
Sock away a certain amount for the next 6 months say Php1,000 on top of your regular savings plan. Or if you don't have a savings plan yet, how about Php2,000 as a start? Are you game for it?
So how do we stage the revolt against overspending? 
Change the mindset! Food is definitely a necessity, but buying from pricey stores regularly and indulging in impractical treats are just not going to work if you haven't built up your emergency fund. Only for rare occasion perhaps. Only for once-in-a-lifetime cases. But if it becomes a habit, that is the problem. How about the latest gadget? Are you quite tempted everytime you pass by the mall? Check out its features and match the specs with your needs.
Track random spends. A little buy here and a little buy there get piled up and become a huge component of your spending.
The Law of the Why: Why am I buying this product? Is't a need, or a want? Importance, not urgency is the key. That is why the weekend sale will encourage you to buy more knowing the sale might end soon. Save-then-buy strategy is one thing we can practice: save first for a big item, and when you have enough cash, buy it.
Turn the tables around. How about selling your homemade goods. Or second hand items. Take advantage of online buy and sell sites. Why not grow your money, instead of throwing them all away. You might just find your next addiction!
Repeat the process. 
The above does not mean you shouldn't splurge on life's great pleasures.
Just be a happy spender. Spend within means. Save beyond expectations.
Did you enjoy this post? Share with friends and start your journey together!
Got questions? Email krissy@moneylifeblood.net.
Still lost? Email krissy@moneylifeblood.net.
Do you want to receive more tips and strategies from me on various investments? Subscribe for free here. (You will be directed to a site to log your email address. I will not share with anyone your private contact details.
Thank you for reading this ebook!
Krissy
P.S. Always check the latest posts at MoneyLifeBlood!
#FilipinoFinancialFreedom  #EveryFilipinoDeservesToBeFinanciallyFree                                
P.S. Do you want to have ultimate cheat guide to personal finance? Shop at IDEA SCHOOL – a learning hub to saving, investing and money making. Check out learning books, classroom seminars, online trainings, ebooks, trading guides and other resources you need. Affordably priced for all Pinoys worldwide, shop for financial education and keep learning!
P.S. Do you want to change your financial life this 2016? Get #MOVE 2016 Financial Plan Diary and move your financial life to the best life ever! To pre-order this planner, deposit Php500 to BDO Savings IDEA SCHOOL 00836004985. Regular price is Php600 come January 2016. You need a daily guide to help you become consistent, be moved this 2016!
P.S. Are you a business owner? Are you an aspiring investor? Do you wish to launch your product in platform to boost sales, get crowdfunded or become an angel investor? Check out Angelpreneur or email wealthcircle@angelpreneur.net.
P.S. Welcome to School of Personal Finance!
Every Filipino deserves to be financially free.
100 Lessons. 10 Stages. 1 Goal. 
#FilipinoFinancialFreedom
I have a heart for people who cannot pay for seminars and are looking for free learning that is of quality. Yes, there are. You find them all in Youtube, personal finance blogs and sites.
Early this year i wrote in my goals: "To help 100 people achieve their goals" and I think via my blogs, seminars, and thru this forum all newbies will no longer be newbies.
This online personal finance school is dedicated to all my blog readers who have found me online in one way or another and are looking for resources to boost their personal finance knowledge. Study at your own pace, at your own time. No registration required. Nothing to shell out to get access.
Educate yourself today. Dedicate 5 minutes of your time each day for the next 100 days to learn about personal finance and how it can help improve your life.
Stage 1: Basic Personal Finance
Stage 2: Financial Planning Series
Stage 5: Strategies on Investing
Stage 6: Inspiring Success Stories
Stage 7: Personal Finance Book Reviews
Stage 9: How to apply in real life
Stage 10: My Personal Learnings
Start your financial education today!
Join the Filipino Financial Freedom Forum and be with like-minded people who talk about stocks, mutual funds, UITFs, business, money management tips, trading strategies and more. Download free ebooks and resources here!Like us on Facebook!  Moneylifeblood
Add me up on Facebook! @moneylifebloodofficialblog
Wanna follow me, the financial blogger? Follow me on Twitter @moneylifeblood @krissydomingo IG @tinkerbell_krissy FB @moneylifebloodofficialblog
Visit IDEA SCHOOL and shop for financial education!