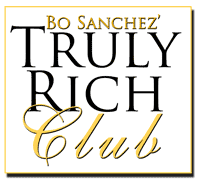 Many people have been asking me if they should join the Truly Rich Club hence this article.
Before I begin with, I'd like to tell you the following personal disclosures:
I am not a member of Truly Rich Club simply because I love technical analysis and I plan to develop my own trading strategies until I'm 30. I have some more years to fulfill my dream.
I am not advertising any product or service; I am simply a personal finance blogger of this humble blog who would like to share objective views about the Truly Rich Club I read and hear from people based on my personal experiences. 
I have a deep love and respect for Brother Bo Sanchez, I wish he had a younger brother close to my age. I love his books and videos, I thank him for putting up Kerygma Family and The Feast – indeed one of the happiest places on Earth. =)
For comments and suggestions, please do give me a yell at the Comments Section below. 
What is Truly Rich Club?

Taking it from the website of Truly Rich Club:
To change your life, you need to get rid of your poverty mindset and gain a wealth mindset.
And I've also learned how to change mindsets: Through the simple act of repetition. Because repetition is the mother of all skill. By constantly immersing one's mind with a new way of thinking, a new mindset is formed.
That's why I created my Truly Rich Club Gold Membership. It's a private group of individuals that I support in their financial and support growth.
It's for people who are serious in changing their beliefs and thinking—to gain the abundance mentality they need to change their lives forever. I also provide Gold Members with the right tools, principles, and strategies to grow in their financial and spiritual life.
Reasons Why People Join the Truly Rich Club
For newbies (people who have limited knowledge on the stock market and investing), this is a great starter. It provides you baby steps towards investing in one of the most dreaded financial instruments in the world today – stocks. Why dreaded? It is due to its volatility. We all know the timeless investment adage "High risk means high returns." And stocks are categorized under the high risk financial products. 
I remember a comment by a reader before, that for professionals whose line of work is totally far from the equities industry, Truly Rich Club is an efficient way to maximize your time as you would receive updates, stock buy/sell alerts, seminar schedules straight to your inbox. As you perform your profession, you let Truly Rich Club analysts and writers recommend stock picks for you. It's like hiring a person to a job for you. And you pay for the premium. 
It's time to debunk the idea that being faithful is synonymous to being poor. I think it is simplicity redefined. Being simple does not mean being poor to the point you cannot send your kids to school anymore. I don't think a God of Abundance will let a poor kid die of hunger. I like it when Bo Sanchez said he has a dream of seeing good people becoming millionaires. He has actually explained this better in most of his personal finance related books. Jesus himself talks about money in the Bible!
It's financial leverage. Bo Sanchez isn't a stock market analyst as he is a preacher. But he works with people who are more knowledgeable about the stock market, such as the Chariman of Colfinancial.com Edward Lee and writer Mike Vinas who is a certified securities representative (CSR) and also affiliated to Colfinancial.com.
The membership fee is peanuts compared to the benefits received. You have heard of personal testimonies of people whose lives have been changed due to Truly Rich Club. They have fixed their finances – from zero to thousands. They get closer to God due to the inspirational preaching of Bo Sanchez. They have been opened up to the world of personal finance – that feeling that you can actually be free from debts, high hopes that finally there is a community that will support you in your financial goals. In the website, I saw a listing of the products included once you have signed up in the membership of the club which we will discuss later. Bo Sanchez inspires people to be good; he is a magnet. And I believe that he is a blessing from God. Just listen to Preacher in Blue Jeans videos. Just read his books. Just attend the Feast. Then shout out at the Comments Section below how you are blessed. If you pray for finances to be at stable status, you need to team up with people who believe in your dreams. 
It is my way of expressing thanks to Brother Bo and sending my tithes to the needy. I have a friend who actually subscribes to Truly Rich Club because of this reason. And I think it is because he firmly believes in the causes to which the proceeds of the membership go to. Like it supports the ministries of Kerygma Family such as Anawim, Grace to be Born, Tahanan ng Pagmamahal, etc. Personally, I would want to donate directly to the institutions, but another way of looking at it is that Brother Bo as a preacher also has to support his own family and causes, and one way to gather funds is through offering a service which I think he personally conceptualized together with like-minded people in his wealth circle. 
It's not just about stocks – it's about business, real estate, mutual funds and retirement planning. Truly Rich Club works with experienced entrepreneurs such as Dean Pax Lapid and Larry Gamboa – authors of well-known personal finance books together with Bo Sanchez. And personally, I would say that after reading their books, I really learned a lot and I am moved to take action. Hence this blog is born. Hence my personal investments are born.
It leans on one of the tested investing strategy – cost averaging. It is not a quick-rich scheme, and it teaches you to appreciate every stock you buy, and encourages you to be patient on your investments. 
Easy-to-understand terms such as BBP (Buy Below Price) TP (target price) summarized in nice tables, practical stories about life shared, encouraging GodWhispers sent daily via email, inspiring maids and drivers who will become rich in the future! Bo Sanchez has definitely rocked minds of most Filipinos who have read the ebook My Maid Invests in the Stock Market. Bo Sanchez is a great communicator – he is able to introduce the stock market in layman's terms to people who have zero knowledge about it.
It's just amazing to know you can be part of Platinum Wealth Circle – the cream of the crop of like-minded people who have exclusive access like quarterly meet-ups with successful mentors and entrepreneurs. It's not everyday that you get to meet this kind of people. Pick brains, share the latest strategies, learn from the best who are really, really rich. It's a privilege to be part of such group of people, a mastermind circle.
Earn as well through its affiliate program. You helped friends and relatives change the way they view and treat their finances, at the same time earn too. I read somewhere that you can get about 20% commission per referral. (Somebody who is a member please verify this).
Save the best for last: PERFORMANCE. Let me share with you a post by a fellow blogger
and personal finance advocate J3 Patino, CEO of StockMarketForPinoys.com. From his article Truly Rich Club Performance Review – Sept 2012:  "Overall, the late-2010 to mid-2012 performance of the Truly Rich Club is very good. The core investments (Group B) delivered returns higher than the PSEi. And Group A gave the members bonuses thru short-term opportunities in the market. This gave a the average member a return of 38.85% – way above the PSEI performance. With this kind of performance, I'd say the Truly Rich Club Stock Recommendations are excellent. (However, please take note that these gains cannot be used to predict future gains or losses in the stock market.)" Hence, for some people, subscribing to Truly Rich Club is no longer a cost but an investment.
Reasons Why People Do Not Join the Truly Rich Club
If you already know how to read charts and financial statements, then maybe you can opt not to join the Truly Rich Club anymore. This is assuming that you have a considerable amount of time too to study the market and price action. Like in my case, I usually make my own study during weekends as I am quite occupied during weekdays. Like what my mentor told me "Kung marunong ka na magbasa ng charts, bakit ka pa magsusubscribe?"
Some people are skeptical about the membership program and look at it as a scam. I'm actually surprised to check my keyword searches in the blog to include the phrase "bo sanchez scandal." Truly Rich Club has an affiliate program where members can invite non-members and have a certain share of earnings – is this some kind of multi-level networking? Now, let's put things to perspective. Is the Truly Rich Club a scandal? Spirituality with a price tag? Let's dig further into this later.
Some people think it is somehow "spoon-feeding" you. In my personal opinion, I think it really depends if you are the type who is comfortable creating your own analysis, or if you are the kind of person who relies on recommendations and picks. I think also that every paid membership would really look like "spoon-feeding," but the truth is they are actually just doing their job. It is their job to provide service – you pay for it, they give it. Hence, it is really how you want the relationship between the service provider (membership) and client (you) work. At the end of the day, it is you who will click the BUY/SELL button. At the end of the day, it is you who will earn/lose money. 
"I miss the Bo Sanchez who is only spiritual and religious." For sure a lot of people have criticized Bo Sanchez for now talking about money and business. And I understand that there people who are not really comfortable mixing spirituality with money. But I think Bo Sanchez is actually helping to address the biggest problem of the country today – poverty and the lack of financial education. Was there any time in history that financial education has been this aggressive? Was there any time in history when you hear parents, office workers, taxi drivers talking about the soaring stock market? Not until today. And actually, read the lives of millionaires and billionaires who made it big in the world today – some or most of them actually have deep spiritual convictions in life. Is there anything wrong with being a person of God and an entrepreneur? I don't think so. Do you think Manny Pangilinan or Henry Sy do not have personal beliefs and faith? I don't think so. I think that God leads people to what He dreams them to be. And if they are destined in life to be entrepreneurs, perhaps they are just fulfilling God's calling. Bo Sanchez is comfortable to be called a millionaire missionary. In his heart maybe that is what God calls him to become. I would also love to be one =)
If you have already subscribed to other paid stock market newsletters, then I think it is advisable not to multiply your costs (unless you can afford it of course). 
This reason is not really more of not joining, but actually graduating from the club. If you think you have outgrown the ideas and you have actually initiated a business or a profitable portfolio and you believe you can pilot it to save monthly costs, you can cut it down for as long as you think you don't need it anymore. You already have wings – and I think it is the dream of the club – for you to fly on your own. But I believe that Truly Rich Club will soon realize this stage and will surely make efforts on how to keep their members. Maybe they can launch an intermediate level of membership.
Php497 monthly fee is already too steep for me. For people who have a tight budget, I would really understand this case. For a year, you are to spend Php5,964 for a monthly fee of Php497. That's about 3-4 sacks of rice already. I would advise people to look into their budget first and financial capacity. Remember, paid memberships should make sense to your budget. It may be worth the sacrifice in the future, but you also need to think of your family needs today. Also, if you are spending Php497 a month while you invest Php500 a month or none, the subscription simply doesn't make sense to you. You need to atleast break-even every month or recover your costs every profit-taking.
"I already have the books and CDs." Actually I would feel for this person too, as I have a number of Bo Sanchez books and CDs. If you think you are better off in reading materials, stock trading forum, Facebook groups discussions, Tsismis analysis and so forth, then stick to what works for you. 
"I use other stockbroker platform and I believe in their recommendations." I would agree with this person too as people do have different tastes in investing and some do like Colfinancial.com and some don't. For me, I would want readers to open up their opportunities to other stockbroker platforms too as they offer stock market researches and model portfolios. You can check out my related post here: 10 Online Stockbrokers in the Philippines: Open an Account Now! Yes, my friends, there are 10 online stockbrokers in the Philippines =)
"The stocks recommendations are the same with Colfinancial.com. Apart from that, I also get free stuff online." When I checked a sample newsletter from Truly Rich Club, I actually noticed that model portfolio is indeed similar to the model portfolio of the broker. Hence, if you are just into the stock picks, then you might be better off sticking to Colfinancial.com Investment Guide. As with the free stuff, I know people love free stuff but let's also be reminded of copyright issues and intellectual property rights that come it. 
"I do daytrading / short-term trade." Yes, Truly Rich Club does not seem to advertise short term trading. In fact, it believes in medium to long-term investing. 
"I'd rather go with the pros of stocks." Some people think that since Bo Sanchez is more of a preacher than a stock market analyst, it is way better to join trainings conducted by those who know more. Yes, I think I agree that it is a personal choice to attend to whichever trainings we want as trainings have been abundant and accessible these days. However, objectively speaking, Bo Sanchez isn't really the one analyzing the stock market. He is collaborating closely with Edward Lee on stocks, Dean Pax Lapid on entrepreneurship and Larry Gamboa on real estate. He is surrounded by his personal mentors. 
"I'd just invest that Php497/month on my own. I already do cost-averaging." Again, yes, it is possible to do so. For me it's more of a trade-off – you pay today for financial education, or you plunge into an unknown world on your own. But if let's say you save up on mutual funds, I think it is also a good idea since what you are doing is cost-averaging, same style with Truly Rich Club. When I attended a stock market forum EB before, an attendee I was sitting beside with told me to get trained on stocks. And he said "I'd rather get trained than lose money without knowledge."
"I don't want to mix feelings and emotions that I only subscribe just to give to charities." Personally, this is a good thought to think about. For subscribers, understand why you subscribe – are you after the return the newsletters will give, or are you just plainly giving out a donation? As I mentioned above, you may choose to donate directly if the purpose is the latter.
Is Truly Rich Club a Scam?
To tap the 99% population in the Philippines who has not been into the stock market is actually great business. It is for me a right business to do. There is power in retail investing. And to accumulate funds from households is the way to do to empower Filipinos to invest. Masakit maglabas ng pera ngayon. Pero bakit ang dali-dali gumastos?
Now, where does this rumor about scams came from? Some people just tell you to do easy math:
Imagine this: Php497 payment monthly. With about 100,000 subscribers. That's a sweet Php49,700,000 a month! Wow!
As a business, it would pay for its newsletter contributors and writers, layout artists and researches, costs for holding events and seminars, production of audios and books, seminar speakers and professional fees, logistic costs, affiliates, etc. Remember, it is a business. There are costs related to it, and revenues generated. If it were not to be treated like a business, how could it get its funds to pay for experienced analysts and producers?
It's not just Truly Rich Club which offers seminars, financial education materials such as books, ebooks and CDs, but also other institutions like RFP, Stock Smarts, Trading Edge, etc. I also have a related post entitled 11 Premium Stock Market Newsletters You Can Subscribe. Hence, the business of personal finance isn't entirely new.
Some people also think that they pay premiums for quality purpose. You may get some stuff for free, but not of good quality.
And just imagine the reputational risk at stake here. A lot of lives dependent now on recommendations. Just imagine if things blow up. That is why it is wise to team up with experts, like what TRC does.
As Sir Efren Cruz puts it, financial planning is a serious business. When you open a mutual fund, or when you trade stocks, there are buy/sell charges. When you hire a fund manager to manage a proprietary fund, there is an investment fee/professional fee. When you want a financial counselor draft a financial plan for you, it is paid. Why? Because there are efforts exerted, time consumed, expertise paid for.
Internationally, coaching programs and paid membership clubs are common businesses. Just check out Bob Proctor, John Maxwell, and Tony Robbins to name a few.
In a related post "How to Detect and Avoid Investment Scams," there are considerations to identify scams from not:
The promotion/promoter promises you a high return or a better return on your money than any other investment you have.
They guarantee big profits in a short time.
They say the opportunity has "no risk" or "low risk".
They pressure you to act right now because the opportunity won't last or the "market is moving" or some other excuse.
They often play on your fears. They particularly target seniors by playing on such worries as not having enough income for catastrophic emergency medical costs or outliving retirement savings.
Hence, given the above pointers, the Truly Rich Club is not a scam.
What Do You Get From Subscribing?
Upon checking the website of Truly Rich Club, here are the 11 things you can get when you subscribe:
Receive 2 Stocks Update newsletter every month. –FREE
Receive 2 PowerTalks every month (instant access via MP3)
Receive Bo's Success Mentors Collection for 3 months–FREE
Receive WealthStrategies newsletters every month–FREE
Receive Daily GodWhispers Email–FREE
Receive How To Be Truly Rich Seminar (instant access via MP3) –FREE
Receive How To Conquer Your Goliath Ebook–FREE
Receive How To Turn Thoughts Into Things Ebook–FREE
Earn Passive Income by being Bo's Affiliate in the TrulyRichClub
Earn Passive Income with Bo's other Internet Work
Receive My Very Practical Ebook, My Maid Invests In The Stock Market…And Why You Should Too.–FREE
Should I Unsubscribe to Truly Rich Club?
I'd like to share a post by fellow blogger and personal finance advocate Carlo Mercado of PinoyStockMarket.com with his article Why I UNSUBSCRIBED to Truly Rich Club and Why You Should Too. Well, maybe not a good title for those who are new to the club or who have just encountered Truly Rich Club for the first time, but I think the points on when to graduate from the club are discussed here.
My Personal Take on the Truly Rich Club
I think I have already mentioned some personal points above, like understanding your current situation if the Php497/monthly subscription is sustainable with your budget, etc. At the end of the day, each subscriber and would-be subscriber should really make his or her own personal take on this.
Stick to what works for you. May work for some, may not work for some. If the Truly Rich Club has guided you towards achieving financial goals, then great. You'd hear people bashing or criticizing you, but at the end of the day, it is YOU who will be responsible towards your finances, not anyone else.
At the end of the day, it is YOU who will click the buy/sell button. It is YOU who will earn/lose money. Every move we make, whether it is a paid newsletter or a training seminar, there are costs related to it and it is up to us to recover the costs and make money from it eventually.
Just to quote from PMT by a certain handle rds: "and he cannot convince me to sell EDC, never…because i don't have EDC." Maximize your subscriptions, whether it be Truly Rich Club or something else. It won't make sense if you are just paying for it like a gym membership fee and you're not losing weight or developing muscles.
Once you get to learn the ropes of it, maybe you can also independently grow your finances to save costs and add this to your current investments.
There's harmony between money and spirituality. 
Would I recommend it? To newbies, yes. But if you ask me if I'll join, I am sticking to my personal trading strategies as they have proven profitable in my case. Again, may work for some, may not work for some. 
Truly Rich Club is supported by some friends I personally know of. And to see them blessing others is happiness to me.
For any errors mentioned in the article above, please email me at krissy@peraholic.com. Thanks!
Disclaimer: Yes, I have affiliate links with Truly Rich Club  as you can see in the site but this is because I believe that these are services which beginners can explore, just like PinoyInvestor which I also share as an affiliate.
Never miss the money rush!
Be in the money know.
Every Filipino deserves to be financially free.
#FilipinoFinancialFreedom
1cor1614
AMDG+
Add me up at Facebook!
PS 1 
Subscribe
 for FREE to MoneyRush! MoneyLifeBlood Official Newsletter and receive weekly updates on the latest blogposts, Like us on 
Facebook
 and follow us on 
Twitter
. Happy millions!
Kalayaan!
PS 4 Thank you to this blog's brand partners: 
GodWhispersClub.com
FamilyReborn.com
52 Healing Habits
One True Love Club
Success Speaker Club